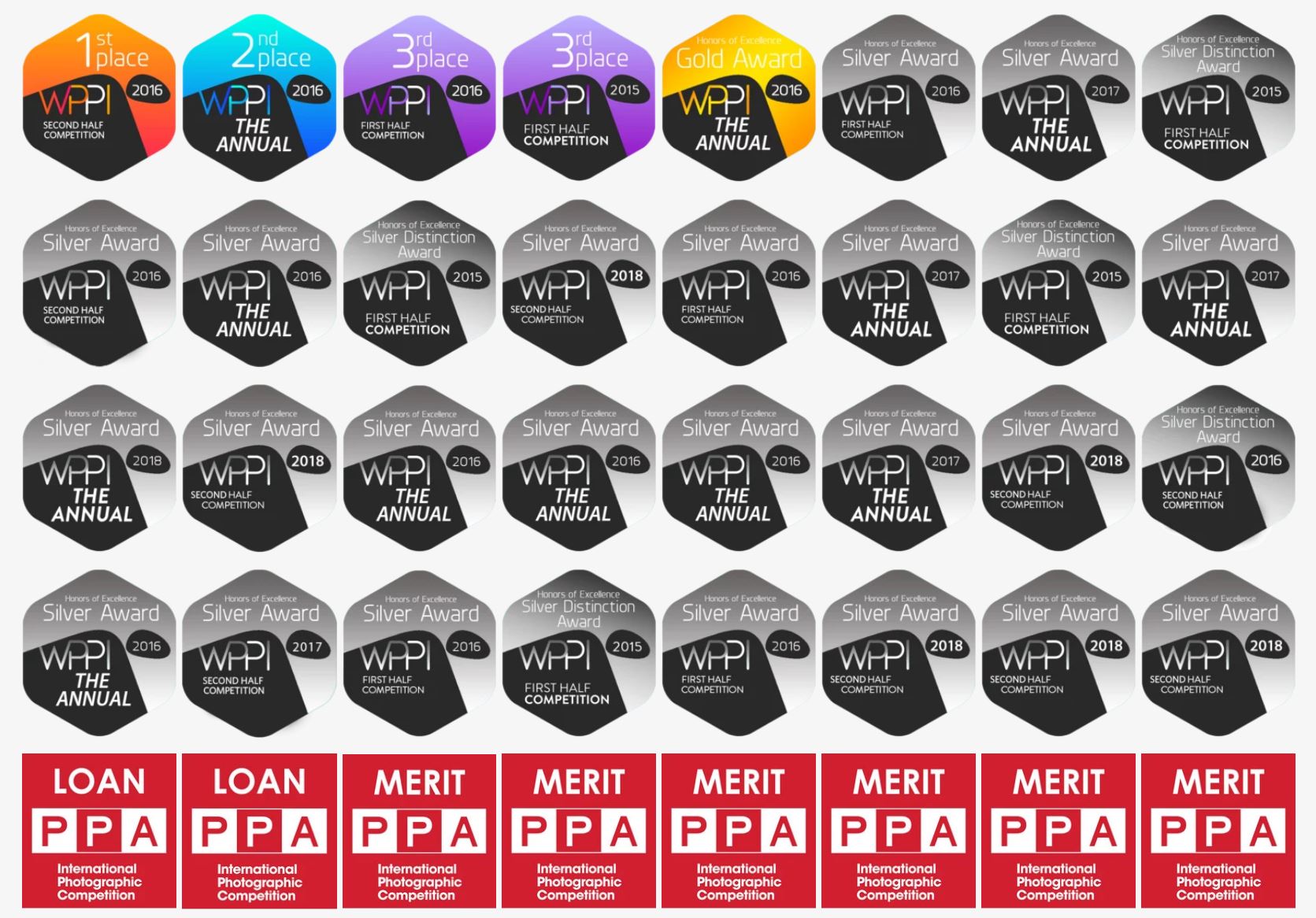 Being professional portrait photographers we often submit our work to competitions and we have been honored to win numerous awards shown above
Photography competitions are a great way for us to grow and develop as photographers. From the beginning of our career we enjoyed sitting at various competitions and listen to judges commentaries. That feedback often helped us getting better at portraits.
Listening to all those comments and seeing what other professional photographers are creating has been one of the components of our growth as photographers.
Our photography and experienced has grown to a level that we have been invited as a judge to some of the most prestigious international photography competitions in the world, including WPPI Annual Competition in Las Vegas.
MOST TALENTED PHOTOGRAPHER OF THE YEAR
There are three major portrait organizations that we decided to submit our work into their competitions:
Wedding and Portrait Professionals International (WPPI) – largest and one of the most prestigious portrait photography organizations in the world
Professional Photographers of America (PPA) – biggest professional photographers organization in the US
Magic Lens – one of the fastest growing and prestigious international photography organization based in Europe
Sasha – the better half of WASIO faces – won the Grand Award of 'The Most Talented Photographer of the Year' from Magic Lens Awards. The awards were announced during an annual gala in Europe. This year gala took place in Macedonia.
Besides winning the Most Talented Photographer of the Year Sasha also won 1st place in Environmental Portrait category.
We were completely amazed, surprised and incredible honored by our photography winning such amazing awards. Big thanks to Phottix for providing such amazing prices. Sasha won a Phottix Odin II Trigger for Canon and a Phottix Mitros+ speedlight.
PORTRAIT PHOTOGRAPHER OF THE YEAR
Yaneck has been honored to received the award PORTRAIT PHOTOGRAPHER OF THE YEAR from Professional Photographers of San Diego County (PPSDC). The award is awarded to a photographer that wins the most awards in five photography competitions organized by PPSDC each year.
After the first year of being a member of PPSDC, Yaneck has been elected as VP of PPSDC responsible for organizing and running all photography competitions for Professional Photographers of San Diego County.
AMBASSADORS AND PRO TEAM MEMBERS
Member of Tether Tools Pro Team
One of the ways we make the headshot and portrait sessions more interactive is by tethering (transferring live photos from our camera to a computer) so we can see them right away, make corrections, and review them as we photograph you.
The tools that allows us to tether from our camera are primarily from Tether Tools - a world leader in tethering tools and accessories.
We are extremely proud that after many years of using Tether Tools products we got invited to be part of Tether Tools Pro Team. We are honored to be among some of the best photographers in the world!
FIND OUT MORE
X-Rite Coloratti Master
Getting proper colors in photography is critical. Yaneck WASIO has been obsessed with colors and color management in photography for many years. He develop a deep expertise in that field and is regarded world-wide as an expert in color management in photography.
Yaneck had the honor to be invited to be one of the X-Rite Coloratti Masters - highest recognition from the most prestigious company that specialize in everything related to color accuracy in photography - X-Rite Photo.
We use X-Rite photos to calibrate our monitors & cameras. We create custom profiles for each our camera under each type of lighting. All our monitors are calibrated once a week for the most accurate color reproduction.
FIND OUT MORE
Savage Universal Ambassador
Backdrops are critical for headshots and portraits. We have been always using the best seamless, canvas, and other types of backdrops from the best company producing them - Savage Universal.
That's why we are so proud and honored to be Savage Universal ambassadors and featured photographers.
All the studio photos in our portfolio are photographed using Savage backdrops. They are simply the best.